Oiva Health has signed a partnership agreement with Icepharma, a leading distributor of medical devices and nursing products in Iceland. This strategic partnership will enable Icepharma to introduce Oiva Health's advanced Digital Health platform to the Icelandic health and social care market.
The target of the collaboration is to elevate patient independence and significantly improve their overall quality of life by utilizing digital healthcare to expand healthcare services to every home in Iceland.   
Rural areas and long distances increase demand for Oiva Health's platform
Given the geographics of Iceland, there is a large demand for digital health solutions. Icepharma and Oiva Health want to be leading the digitalization of healthcare services in Iceland in the coming years.
Iceland and Finland share a lot of similar challenges in ensuring equal healthcare services to every citizen in the country. Both countries have rural areas where accessing healthcare services takes hours of travel. With the support of Icepharma, we are happy to be able to share to Icelandic care providers our knowledge of digitalizing healthcare and social care services. We see a lot of future opportunities for our Digital Health platform especially in long-term care and primary care markets in Iceland, says Juhana Ojala, CEO of Oiva Health.
"Icepharma is delighted to start our partnership with OivaHealth, a collaboration that promises to significantly enhance our ability to provide essential telecare services across Iceland. The growing demand for digital solutions within the Icelandic social and healthcare sector is undeniable, and we are eager to meet this demand head-on. OivaHealth brings valuable expertise and experience to the table and has already demonstrated their commitment as an excellent partner.", says Stefanía Fanney Björgvinsdóttir, Account Manager of Icepharma.
Digital Care creates efficiency and increases well-being of care recipients in long-term care
By creating the partnership, Icepharma and Oiva Health want to introduce the Finnish digital home care concept to the Iceland long-term care services. In Finland each year over 1,5 million home care visits are done on Oiva Health platform, resulting over 50M€ annual cost savings for public care sector.
At the same time digital home care also has a lot of important soft values. The service has allowed care recipients to interact more actively with each other, as well as with their close family members. This increased social activity has decreased the feeling of loneliness. Similarly, the feeling of safety has increased when care recipients know that with a press of a button they can have a live video call with a care professional.
In Finland Oiva Health's Digital Care service is widely used i.e., in home care, home rehabilitation and disabled care services. The first deployments of the service are already on their way in Iceland.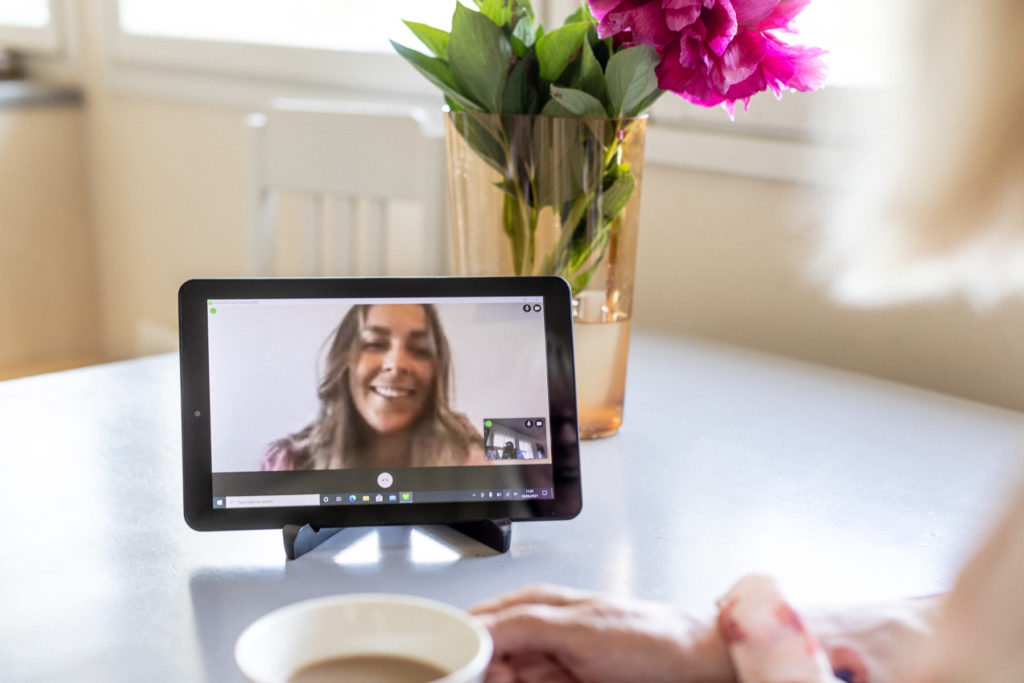 Digital Clinic extends healthcare services in patients back pocket
Icepharma and Oiva Health will also be focusing on the digitalization of primary care and hospital care services. Oiva Health has a Digital Clinic service concept that is designed to be used both alongside normal care work and as the main working tools of separate digital healthcare units. By using Digital Clinic patients can access healthcare services from easy-to-use digital patient portal and mobile application, allowing them to receive care on 24/7 basis without the need to travel. This will make healthcare services more accessible for the Icelandic citizens and reduce the pressure at the physical healthcare and social care services.
Further information
Juhana Ojala
CEO – Oiva Health
Helga Dagný Sigurjonsdóttir
Business unit lead – Icepharma
Photo from left: Juhana Ojala – CEO of Oiva Health, Hanna-Mari Smolander – Virtual Care Specialist, Tatu Karppinen -Virtual Care Development Manager, Stefanía Fanney Björgvinsdóttir – Account Manager, Sturla Geir Pálsson – Technician, Helga Dagný Sigurjónsdóttir – Business unit lead and Hjörtur Gunnlaugsson – Director of Healthcare Division.