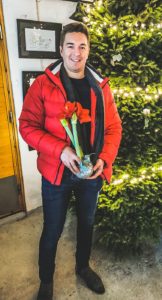 The management of a family company VideoVisit Ltd will be transferred in the hands of a new generation as the Board of VideoVisit Ltd appointed Juhana Ojala as the new CEO of VideoVisit Ltd effective 1st of January 2020.
Ojala, a Co-Founder of VideoVisit, has previously overseen the company's sales and business development operations both in Finland and international markets as Executive Vice President at VideoVisit.
Since 2014 Ojala has been leading VideoVisit's growth to become the market leader in Remote Care services in Finland with close to 90% market share in the Finnish public healthcare sector. Last years Ojala has been focused especially on expanding VideoVisit's market presence in international markets by building new global partnership networks. The newly appointed CEO has a clear vision on what direction VideoVisit is heading.
"I am really excited and honored of this opportunity to steer VideoVisit to take the next step as a company. Within the last few years we have succeeded to establish a stable market position in the Finnish healthcare sector as the leading expert in Remote Care services, offering services to over 120 municipalities in Finland. We have a really great, dedicated and experienced team that I can count on every single day. This team together with our broad customer base is a great platform to build our future growth!

JUHANA OJALA
The results of our tight collaboration with our customers can be already seen next year when we will launch a new, 2nd generation Remote Care platform. Additionally we will also increase our focus on supporting our customers in implementing remote care services to healthcare processes. In international markets we will continue the strategic growth through carefully selected partnerships. The next decade is going to be excited time in many ways!", Ojala describes VideoVisit's future.
Additional information
Juhana Ojala
CEO VideoVisit
juhana.ojala@videovisitglobal.com
+358 40 5682182